We are rebuilding AJAM from the ground up, which means there are major changes and opportunities afoot. To celebrate this transition, we're having an open-house / party / jam session on Memorial Day - Monday, May 31st! The party starts at 5:30pm!
Scroll down to see photos and videos from the new space!
We're in a new location, expanding our ensemble offerings, and have new instructors. If you've been thinking about enrolling, NOW IS THE TIME. If you've been waiting for a spot to open up, SPOTS ARE OPEN NOW.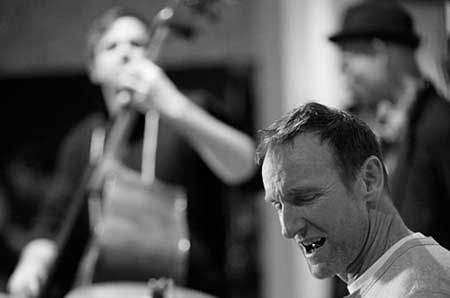 We need you to email us ASAP letting us know:
1. Which ensemble you would like to be in
2. If you want private lessons
Email us at info@ajampdx.com (even current students need to do this!). In a couple months the ensembles will be full again and it will be back to the waitlist, so don't delay!
New Location
AJAM has moved! We are now located in an 1888 Victorian home near Mt. Tabor (known to some as the LooseWig house). This is great news for AJAM because we are more centrally located, have more available parking, and are now walking distance from cool food carts!
Ensembles
Beginner & Intermediate
In AJAM Beginning/Intermediate bands, musicians learn the ins and outs of playing in a band, develop greater skill and ability on their instruments, and build self-confidence in a collaborative, FUN group atmosphere.
Pro
This is exactly what it sounds like. If you're pretty good at music and "pretty good" is no longer cutting it, this is the band for you. Play in an ensemble with equally talented professionals that'll kick your ass and take your playing to the next level.
After Hours
After Hours is for the career and post-career adult with a serious love of music and the time for finally enjoying and reconnecting with their musical genes. It gives people a creative outlet for their music. Players enjoy the camaraderie of being in a band while at the same time working toward improving their musicianship. (ages 20 something - 90 something)
ALT Ensemble *new*
If you want to write & play killing pop/alternative music, this is for you. Whether you're a singer, beatmaker, guitarist, cellist, or anything else, ALT Ensemble is the place to develop your creative voice and become the artist you're meant to be.
This program is 3 things: 1) A Songwriting Workshop. A safe space to bring in original ideas, hear them played by real people and get turned into fully arranged songs. 2) A Class. Discover what makes a hit a hit, hone your instrumental skills and learn the power of music theory and production. 3) A Band (most importantly!). Play original music, develop meaningful relationships and learn how to navigate the music industry.
Summer Break Band w/ Domo Branch *new*
Domo is tearing it up in New York, and back in town for the summer! He's going to work with a select group of students who want to get insanely better at music over their summer break.
Singer/Songwriter *new*
The singer/songwriter ensemble is similar to the ALT Ensemble in that it deals with pop/alternative music, but with a focus on lyrics & songwriting. Less of a "band" and more of a "writer's workshop", this ensemble is a great place for people with songs in their hearts to get together and inspire each other.
Vintage Jazz *new*
Learning to play vintage jazz is a great way to work on communication, technique and groove; with a fun dose of history thrown in. Stride pianist and vintage jazz expert Andrew Oliver is leading new ensembles focusing on jazz styles of the 1920s and 30s.
These pioneering styles of jazz, stomp, and swing burst onto the scene in the teens and 20s, captivating (and sometimes horrifying) the public. They went on to revolutionize American music. In this ensemble, we'll learn the fundamentals of those styles, while checking out their amazing histories too.
A Cappella Ensemble *new*
A small group of 4-8 people singing simple-to-complex arrangements in styles from barbershop to gospel and everything in between.
Private Lessons
Areas of focus include but are not limited to: composition/arranging, theory/harmony, advanced improvisation, songwriting, voice, instrument technique
AJAM Faculty
Alan Jones

Jon Lakey

Tyson Stubelek

Enzo Irace

Kiran Adarkar

Andres Moreno

Jack Radsliff

Cyrus Nabipoor

Andrew Oliver
If you would like to learn more, please join us at our housewarming party/jam session on monday, May 31st (Memorial Day). For more information on how to RSVP, click here.This jam session will be hosted by our first ever artist in residence, Dayna Stephens, who will be staying at the new AJAM house. Make sure to catch one of his shows while he is in town!
Let's Celebrate AJAM Rebooted and Reconfigured!
To celebrate this transition, we're having an open-house / party / jam session on Memorial Day - Monday, May 31st! The party starts at 5:30pm! Please go to the AJAM Open House / Party web page to confirm your attendance! We're going to limit the number of attendees, so don't delay in responding if you'd like to join us. You must be on the list to get into the party.
Update: We've received so much interest that we've extended the AJAM Reboot party/open house so that it starts at 5:30pm! The event will end at 10:00pm as previously noted. 
Unfortunately, the event is full. If you're already on the list, please come early.
Our special guest for this event is 
Dayna Stephens
! He's returning to Portland to support the Portland jazz scene with a special focus on AJAM! To kick things off, Dayna will be leading the house band and jam session at the party! If you don't already know Dayna, please check out his 
website
 and his recordings! He's a cutting-edge tenor saxophonist and master teacher. 
Dayna will be here the entire week, staying at the AJAM House. In addition to the party, he will perform June 3 at an AJAM house concert, and June 4, and 5 at the 1905! He'll perform with three different groups, which will be available live at AJAM house and via live stream from The 1905. Each of these performances will feature a different Portland-based band! More details will come out soon about those performances, which include many local jazz artists who you probably already know, but haven't heard from very much recently due to the pandemic.
For COVID, please wear a mask if you haven't been vaccinated. We're committed to following the rules for Oregon regarding the pandemic and being as safe as we can possibly be.
As part of the AJAM Reconfiguration and Reboot, we're announcing new workshop band opportunities for aspiring musicians of all levels! Along with the classic ensemble format which you know and love, we're excited to introduce the ALT Ensemble (pop/alternative), the Vintage Jazz Ensemble (traditional 1920's), and Pro-level workshops! Stay tuned for more Ensemble details & how to sign up, coming very soon.
The new address for AJAM is 5332 SE Morrison St, Portland OR 97215. Some of you may recognize this address as the Loosewig House! In fact, AJAM is now located in the same space with the Loosewig House Concert series! Within the new space, we will be hosting house concerts which will soon be live-streamed and presented in person!