Event Date/Time:
Saturday, June 25, 2022 - 7:30pm
Celebrate Nancy King's Birthday Party / House Concert at Loosewig -- Sat, June 25 at 7:30pm!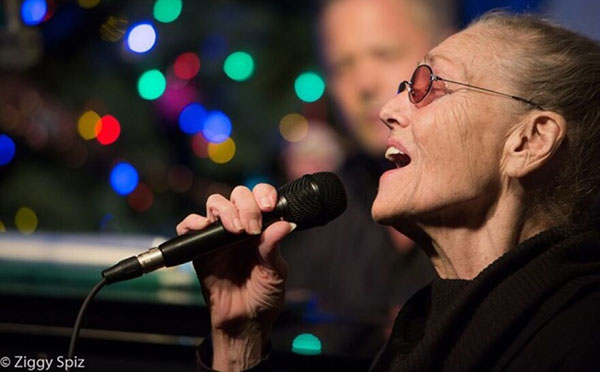 We are honored to have the opportunity to celebrate Nancy King, one of our local/international musical legends on Saturday, June 25 at 7:30pm! 
The concert will feature Harrison Richter on piano, Patrick Golichnik on bass, and Alan Cook on drums! This trio will accompany Nancy's delightful and amazing vocal stylings and will also play a number of instrumental pieces inspired by Nancy's amazing singing career.
About Nancy King
"She is, I think, one of the best singers that ever walked the planet."
 - Karrin Allyson, jazz vocalist
"A supple voice, a flawless ear and the instincts of a true jazz improviser."
 - The Oregonian
"King made the crowd giddy with romance and humor...bowled them over with powerful, sophisticated scatting."
 - Seattle Post-Intelligencer
"...her singing FLIES between our ears with a certainty of inevitable rightness that is at least... simply thrilling."
 - Mark Murphy, jazz vocalist
"Wild chances with a voice both lovely and flexible..."
 - Cadence Magazine
"King is one of America's top jazz singers...the scat-singing heiress apparent to Ella Fitzgerald."
 - Front Row Center
"Nancy King is solidly on the map."
 - JazzTimes Magazine
"Gifted with the emotional depth of Carmen McRae, King holds standards up to the light and explores their nuances through the prism of her stunning technique. Moving and often challenging, she takes the lyrical ballad to new highs and lows."
 - Willamette Week
 
Requested Donation at the Door
$20 Adults, $10 Students (Nobody will be turned away for lack of funds. All donations go directly to the musicians.)
Please bring something to share and warm socks to wear.
This is a potluck jazz party event. Please bring something small to share with others (snacks, nuts, wine, etc.).
Please bring warm socks or house shoes. This is a shoes-off household.
The doors open at 6:45pm! Get here early for a good seat!
COVID Stuff
In order to protect the health of the Loosewig community, we require a COVID vaccination to attend this event. Please bring proof of vaccination or a negative COVID test from the previous 48 hours. Masks are optional.
RSVP Now!