Event Date/Time:
Friday, June 4, 2021 -

6:00pm

to

7:30pm
Watch the performance on YouTube!
Please consider donating to help pay the musicians! You can donate via Venmo at dayna-stephens-sound!
Don't miss the Dayna Stephens Quintet with Domo Branch, Wes Georgiev, Max Reynolds, and Chris Ramirez - Live-streaming from The 1905!
The Streaming link is: https://www.facebook.com/LeftDoorStreaming/posts/318304749886211
On Friday, June 4th at 6pm the Dayna Stephens Quintet performed a live-streamed show from The 1905! Dayna invited four young "Lions" of the Portland jazz scene to join him playing Dayna's original quintet material!


Suggested Donation: $20
(donate online - donation links will be published via the live-stream)
Dayna Stephens - tenor
Domo Branch - drums
Max Reynolds - guitar
Wes Georgiev - piano
Chris Ramirez - bass

About Dayna Stephens 
Check out Dayna's Loosey Goosy from his recently released album, "Liberty."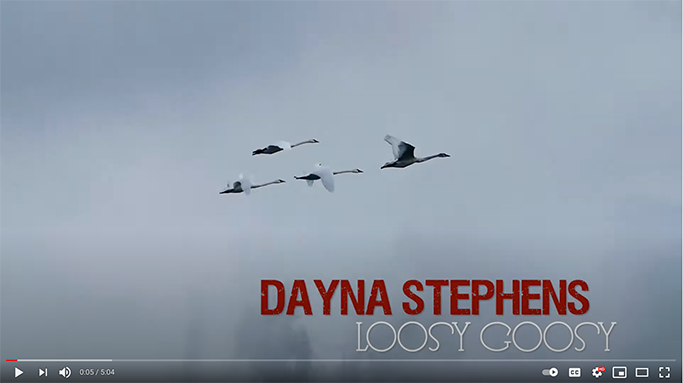 In addition to leading his own group, Dayna Stephens has performed extensively with Kenny Barron, Ambrose Akinmusire, Taylor Eigsti, Julian Lage, Eric Harland, and Gerald Clayton. Stephens grew up in the San Francisco Bay Area and attended Berkeley High School. He went on to study at the Berklee School of Music and later at the Thelonious Monk Institute of Jazz. Dayna currently tours extensively, teaches at the Manhattan School of Music, and conducts workshops and clinics throughout the world.
Stephens's albums include The Timeless Now (2007), Today Is Tomorrow (2012), That Nepenthetic Place (2013), I'll Take My Chances (2013), and Peace(2014). Peace features guitarist Julian Lage, pianist Brad Mehldau, bassist Larry Grenadier, and drummer Eric Harland. Gratitude was released in 2017.
Discography
As leader
The Timeless Now (CTA, 2007)
A Week Ago Today (Prophone, 2011)
Today Is Tomorrow (Criss Cross, 2012)
I'll Take My Chances (Criss Cross, 2013)
That Nepenthetic Place (Sunnyside, 2013)
Peace (Sunnyside, 2014)
New Day (Vegamusic, 2014)
Reminiscent (Criss Cross, 2015)
Gratitude (Contagious Music, 2017)
Right Now! (Contagious Music, 2020)
Liberty (Contagious Music, 2020)
As sideman
Kenny Barron, Concentric Circles (Blue Note, 2018)
David Berkman, Old Friends and New Friends (Palmetto, 2015)
David Berkman, Six Of One (Palmetto, 2019)
Massimo Biolcati, Incontre (Sounderscore, 2020)
Gerald Clayton, Life Forum (Concord Jazz, 2013)
Gerald Clayton, Tributary Tales (Motema, 2017)
Joe Cohn, Marathon Man (Vegamusic, 2014)
Dan Cray, Outside In (Origin, 2016)
Al Foster, Inspirations & Dedications (Smoke Sessions, 2019)
Danny Grissett, Remembrance (Savant, 2017)
Allison Miller, Science Fair (Sunnyside, 2018)
Linda Oh, Initial Here (Greenleaf Music, 2012)
Gretchen Parlato, The Lost and Found (Obliqsound, 2011)
Phil Ranelin, Inspiration (Wide Hive 2004)
Matt Slocum, Black Elk's Dream (Chandra, 2014)
Paul Zarzyski, Collisions of Reckless Love (Open Path Music 2006)

The live-stream begins at 6pm Pacific. The performance will be streamed to a variety of platforms including Facebook, YouTube, and Instagram. Please check the Loosewig.com and The1905.org websites for details on the live-stream links!
RSVP Now!
If you RSVP here, we will email you the live-stream links as soon as we have them!