Event Date/Time:
Thursday, June 3, 2021 -

7:00pm

to

8:30pm
Don't miss the Alan Jones Sextet featuring Dayna Stephens!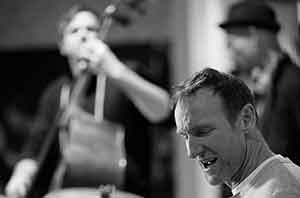 On Thursday, June 3rd at 7pm the Alan Jones Sextet will perform at AJAM House! This will be a very intimate house concert (limited attendance), and will be live-streamed to reach the widest possible audience! If you'd like to attend in person, please RSVP now!
The live-stream will flow through this web page. See below!
Click the full-screen mode to view the live-stream in a larger format. Alternatively, go to this URL on any web browser: https://www.youtube.com/watch?v=E8SWLQZBMnA
Suggested Donation: $20
(donate at the door - 100% of donations go to the musicians)
The live-stream connection isn't working as expected, but we will post the high-quality recording to Youtube as soon after the concert as possible. Thanks for your understanding.
All-star Lineup: Dayna Stephens - Tenor; Alan Jones - Drums; Charlie Porter - Trumpet; John Nastos - Alto; Jon Lakey - Bass; Darrell Grant - Piano

A Portland native, Alan Jones ranks as one of America and Europe's most creative jazz drummers, composers, multi-instrumentalists and teachers. He has performed, toured and recorded with a long list of jazz legends, including his very own Sextet! Alan has worked with some of music's greatest artists including: Esperanza Spalding, Andrew Hill, Leroy Vinnegar, Red Mitchell, Kenny Wheeler, David Friesen John Abercrombie, Jim Pepper, Miroslav Vitous, John Clayton, Cecil Taylor Bud Shank, Randy Brecker, Denny Zeitlin, Dave Liebman, Airto Moriera, George Cables, Lee Konitz, Ralph Towner, Ingrid Jensen, Dave Holland, Charles McPherson, Chuck Israels, and John Hicks.
As part of a week celebrating the collaboration between Alan Jones and Dayna Stephens, the Alan Jones Sextet will perform original material by Alan and Dayna!

Dayna is returning to Portland to support the Portland jazz scene with a special focus on AJAM! If you don't already know Dayna, please check out his Wikipedia page and his website! He's a world-class tenor saxophonist and master teacher. He currently teaches at the Manhattan School of Music and performs internationally with Kenny Barron, Ambrose Akinmusire, Taylor Eigsti, Julian Lage, Eric Harland, Gerald Clayton and many others. Stephens grew up in the San Francisco Bay Area and attended Berkeley High School. He went on to study at the Berklee School of Music and later at the Thelonious Monk Institute of Jazz.
The address for AJAM House is 5332 SE Morrison St, Portland OR 97215. Some of you may recognize this address as the Loosewig House!

We will be admitting a small number of people for in-person participation. Due to COVID restrictions, we are requiring all attendees to be vaccinated. If you're not vaccinated though, please tune into the live-stream!

The doors open at 6:30pm and the music starts at 7:00pm. The performance will be streamed to a variety of platforms including Facebook, YouTube, and Instagram. More details coming very soon regarding the specific URLs where you'll be able to access the live-stream! 
Please bring something to share and warm socks to wear.
This is a potluck jazz party event. Please bring something small to share with others (snacks, nuts, wine, etc.).
Please bring warm socks or house shoes. This is a shoes-off household.
RSVP Now!
By registering for this house concert, I certify that I am completely vaccinated for COVID-19.