Event Date/Time:
Friday, January 21, 2022 - 7:30pm
Save the Date for the Mel Brown B3 Group!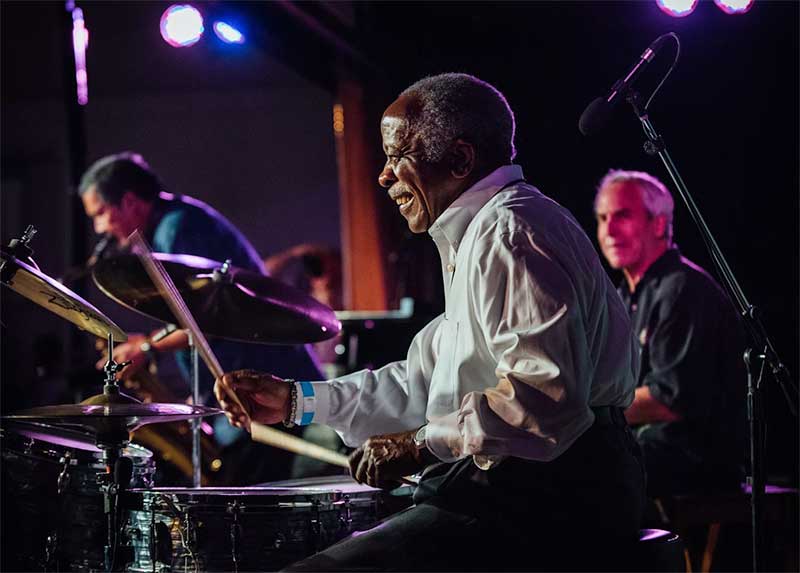 "If this band appeared in New York City, they'd be a sensation!" That was guitar great--and one-time Mel Brown bandmate--George Benson's reaction after hearing the Mel Brown B-3 Organ Group open for him back in September, 2003 at Oregon's prestigious Britt Festival.
In fact, this true all-star band--each member is widely viewed as tops in the Northwest on his instrument--has been a sensation for a long while now. With a collective resume that reads like a "Who's Who" of jazz, blues, and soul (all four members are Oregon Music Hall of Fame inductees), this group has the talent and confidence to be completely spontaneous--from their blistering solos to their improvised arrangements and segues. No wonder they've thrilled audiences wherever they've played. Those venues have included Portland's top jazz club, Jimmy Mak's (every Thursday night for the entire 20-year run of that legendary jazz venue), the Jack London Revue (home to the band for the past 3 years), the Safeway Waterfront Blues Festival, The Britt Festival, The Mt. Hood Jazz Festival, the Rose City Festival, the Bite Of Oregon, The Port Townsend Jazz Festival, Jazz in the Valley, the Newport, OR Jazz Festival, Jazz at the Oxford, the Montavilla Jazz Festival, and many more.
UPDATE: The band's steady Thursday night gig at the Jack London Revue went on hiatus during the height of the pandemic. But the guys are scheduled to return for a one-off holiday performance on Friday, 12/10/21. Check the "Gigs" tab at this website for details.
NOTE: Mel and the band are featured in an hour-long, nationally syndicated NPR program, "Jazz Night In America," released 10/21/21. Mel is interviewed by the program host Christian McBride (a huge Motown fan, as it turns out), and excerpts from a smoking set from the 2019 Montavilla Jazz Festival (including three Louis Pain originals) are played. Here's the link to that program!
 
Requested Donation at the Door
$25 Adults, $10 Students (Nobody will be turned away for lack of funds. All donations go directly to the musicians.)
Please bring something to share and warm socks to wear.
This is a potluck jazz party event. Please bring something small to share with others (snacks, nuts, wine, etc.).
Please bring warm socks or house shoes. This is a shoes-off household.
The doors open at 6:30pm! Get here early for a good seat!
COVID Stuff
In order to protect the health of the Loosewig community, we require a COVID vaccination to attend this event. Please bring proof of vaccination or a negative COVID test from the previous 48 hours. Please plan on wearing a mask unless you're sipping a drink or eating.
RSVP Now!