Event Date/Time:
Friday, December 17, 2021 - 7:30pm
Don't Miss the Cyrus Nabipoor Quintet!
This excellent evening of music will feature Cyrus Nabipoor on trumpet, John Nastos on alto sax, Jack Radsliff on guitar, Garrett Baxter on bass and Machado Mijiga on drums! The musical offering will include many originals and unique arrangements of a few standards.
Nabipoor's Creative Approach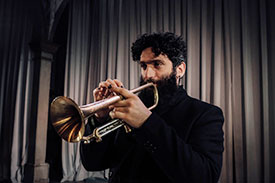 Organizing sounds and telling stories. Trumpeter and composer Cyrus Nabipoor's singular voice speaks of honesty and humanity. With a sound full of warmth and lyricism, Nabipoor balances focused clarity with daring exploration. In both composition and improvisation, melody reigns. Through his pairing of trumpet and electronics, Nabipoor bridges the conceived dichotomy of nature & technology, exploring new tonal possibilities.
'Live At The Marigny Opera House'
In his latest release, Nabipoor makes a powerful debut as a bandleader. Recorded live in New Orleans, the album showcases his compositional prowess, mastery of the horn and musical sensitivity. It features a stellar lineup of musicians who each shine in their respective roles. 
"Live at the Marigny Opera House' is an exhilarating debut from an artist we can expect to keep pushing boundaries." -KMHD
"Live at the Marigny Opera House' is a finely paced, well crafted, quietly revealing debut with a keen sense of smoldering tradition and youthful investigation." -All About Jazz    
Requested Donation at the Door
$20 Adults, $5 Students (Nobody will be turned away for lack of funds. All donations go directly to the musicians.)
Please bring something to share and warm socks to wear.
This is a potluck jazz party event. Please bring something small to share with others (snacks, nuts, wine, etc.).
Please bring warm socks or house shoes. This is a shoes-off household.
The doors open at 6:30pm! Get here early for a good seat!
COVID Stuff
In order to protect the health of the Loosewig community, we require a COVID vaccination to attend this event. Please bring proof of vaccination or a negative COVID test from the previous 48 hours. Please plan on wearing a mask unless you're sipping a drink or eating.
RSVP Now!