Event Date/Time:
Saturday, September 29, 2018 - 7:30pm
Rob Scheps and The Real McCoy: The Music of McCoy Tyner!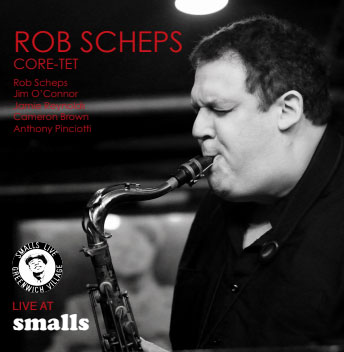 Don't miss Portland's own George Colligan on piano and Rob Scheps (just back from a tour of Iceland, Sweden, Denmark and Norway), teamed with two of the finest Seattle rhythm section players of all time - Phil Sparks and D'Vonne Lewis! The evening will feature a wide retrospective of the beloved McCoy Tyner's incredible contributions to the jazz art form.
Rob Scheps - saxophones; George Colligan - piano; Phil Sparks - bass; D'Vonne Lewis - drums
Don't miss out on getting a copy of Rob's latest CD, recorded live at Small's in NYC!
Location:
Ben Fajen's Mt Tabor Home
5332 SE Morrison Street
Portland OR 97215
The music starts at 7:30pm. The doors open at 6:45pm.
This is a potluck jazz party event. Please bring something small to share with others (snacks, nuts, wine, etc.).
RSVP Now!
Rob Scheps - saxophones

Tenor/ soprano saxophonist Rob Scheps has performed with Gil Evans Band, Vanguard Jazz Orchestra, John Scofield, George Russell, Bob Moses, Terumasa Hino, Al Grey, Clark Terry, Sam Rivers, Julius Hemphill, Duffy Jackson, Cecil Taylor, Joey Calderazzo Quartet… He leads his own bands; Magnets! with Kim Clarke; The Rob Scheps Big Band in Portland, Oregon; and the Rob Scheps Core-tet in NYC; which has a new CD entitled Live at Smalls on the way.
Oregon native Rob Scheps began studying the tenor saxophone at age nine. He grew up on Long Island, New York. After having graduated high school at age sixteen, he enrolled in the New England Conservatory. He received a Bachelor of Music in Jazz Studies with Honors in performance in 1986. While living in the Boston area he led his own groups; most notably the True Colors Big Band. In 1988 he moved to New York, formed the Rob Scheps Core-tet and Bartokking Heads and established himself as a formidable force on the jazz scene.

A member of the Mannes College of Music Faculty, Rob has been a workshop clinician at Bowdoin, Dartmouth, Hunter, Lewis and Clark,UMKC/ Kansas City, Friends Univ.( Wichita,KS), and Whitman Colleges as well as Portland State and the University of Connecticut.

Honors
Down Beat Magazine Awards: Best Chamber Music Performance, Soprano Sax Solo (1985); Bas Relief, Best Funk Group (1984); Outstanding Performance, Tenor Sax Solo (1987); Outstanding performance, Rob Scheps Quintet (1987)

Composition Commissions: IN THE ARMS OF CRISIS, Brass Arts Collective, NYC; GIFTS Private collection, Boston; LISOTTE, commissioned by artist and sculptor, Louise Bourgeoise.

George Colligan - piano

George Colligan is a New York based pianist, organist,drummer, trumpeter, teacher, and bandleader, who is one of the most original and compelling jazz artists of his generation. An award-winning composer (Chamber Music America/Doris Duke Foundation grant recipient) and player (winner, Jazzconnect.com Jazz Competition), Colligan is highly in demand as a sideman, having worked with players like Cassandra Wilson, Don Byron, Buster Williams, and Lonnie Plaxico, both on the bandstand and in recording sessions (appearing on over 100 CDs). He has released 24 recordings full of his intelligent writing and impressive technique. His latest CD on the Origin Label is called"The Endless Mysteries" and features Larry Grenadier and Jack DeJohnette. Colligan's musical style incorporates everything from showtunes to funk, from free improvisation to 20th century classical music. His performances include dazzling technique as well as mature restraint. Colligan was on the faculty of the Juilliard School for two years and is currently an Assistant Professor at Portland State University. He is currently a member of Jack DeJohnette's New Quintet.Recently, Colligan started playing the Hammond 44 Melodion(melodica). He also started a popular blog called jazztruth(jazztruth.blogspot.com).

D'Vonne Lewis - drums

D'Vonne Lewis is a self-taught musician/drummer/poet with a background in gospel, funk, and rhythm and blues. Lewis is the grandson of the late-great 'Godfather of rock and roll/soul', the Pacific Northwest's Hall of Famer, Hammond B-3 organ legend, Dave Lewis. Because of Dave Lewis, Seattle's 1950's entertainment scene started on the path to desegregation.

D'Vonne graduated from Seattle's Roosevelt High School in 2002 under the direction of Scott Brown, where he received numerous high school jazz band awards, including the Jazz at Lincoln Center Outstanding Drum Soloist winner at the Essentially Ellington Jazz Festival for the years of 2000, 2001, and 2002.

While still in high school, D'Vonne was first-call drummer to local and world-renowned artists, including Hadley Caliman; Buddy Catlett; Julian Priester; Floyd Standifer; Jay Thomas; Larry Fuller and Marc Seales, to name a few.

Phil Sparks - bass

Phil Sparks is among the leading bassists in Seattle, having performed with nearly every top jazz group in the city. He records extensively with many of the Northwest's top names, and received a special mention as a star of the Seattle scene in the Feb. 94 issue of Down Beat. 

In Seattle, Phil Sparks has been a member of groups led by Julian Priester, Ernestine Anderson, Wayne Horowitz, Floyd Standifer, Hadley Caliman, E.W. Wainwright, Jay Clayton, Jim Knapp, and Ricky Kelly. He has accompanied the following artists during Northwest engagements: Gene Harris, Roland Hanna, James Moody, Bobby Shew, Mose Allison, Art Lande, Joe Henderson, Javon Jackson, Teddy Edwards, and the Seattle Symphony. 

While living in Colorado from 1976 to 1983, Sparks was a member of many groups, including "Visions," led by Jerry Granelli, "The Bruno Carr Ensemble," and the "Joe Bonner Trio." He also accompanied the following artists during Colorado engagements: Cedar Walton, Eddie Harris, Randy Weston, Jimmy Hopps, and Mose Allison. 

Sparks has recorded with Jerry Granelli, Barry Wedgle, Rich Halley, Francis Vanek, Jay Clayton/Jim Knapp, Juhan Lee, Randy Halberstadt, Rick Mandyck, Jay Thomas, Woody Woodhouse, Clarence Acox, Floyd Standifer, Milo Petersen, Hans Fahling, Steve Griggs, Matt Jorgenson, The Plymouth Trio, Mark Lanegan, Akbar De Preist, and Peter Ross.
Please bring something to share.
This is a potluck jazz party event. Please bring something small to share with others (snacks, nuts, wine, etc.).
RSVP Now!